CHARACTERIZATION OF CONTEMPORARY INKS (IN PROGRESS)
Characterization of dyes and components of Ball-point pen and felt-tip pen inks
In cooperation with Universities of Bari and Perugia

Ball-Point pen (in progress)
Ball-Point pen inks are complex mixtures of several dyes and pigments constituting up to 50% of the total ink formulations contained in either a glyco-based solvent or benzyl alcohol. Additional components include fatty acids, softeners and polymeric resins, designed to improve the consistency, flow or drying characteritics of the ink. This complex composition makes the identification of dyes and pigments in inks challenging. Additional difficulties are due to trademark protection and periodical introduction in the market of novel products with slightly differet formulation. Many analytical methods, including chromatographic techniques and mass spectrometry, have been used for investigation of ink composition in the field of forensic analysis, mainly aiming at development of reliable protocols towards the establishment of the source or authenticity of a questioned document.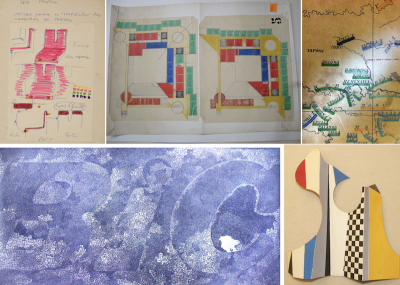 Felt-tip pen (in progress)
The first marker pen patented by Lee Newman in 1910, with then the earliest vesrion of the marker pen in 1911 under the name of the european Kaweco Signier. These marker pens did not result commercially viable and quickly fell into oblivion. It took technical advancements in dye chemistry as well as in nib and reservoir design to produce a more popularized felt-tip pen which could effectively be commercialized in 1953 by Rosenthal. The use of felt-tipped markers, immediately after this successful introduction on the market, geared firstly towards the art suppliers market soon became commonplace for a variety of applications. Subsequent developments in the inks coincided and included varying viscosity containing dyes in water or organic solvents such as propylene glycol, propyl alcohol, toluene or glycol-ethers. other ingredients like resins, preservatives and wetting agents were commonly added. The range of dyes used in the composition of inks is extremely wide, hundreds of dyes were then commercially available with ink colours being made typically from synthetic dyes and dye mixtures.
For more details click here