CONSERVATION, RESTAURATION AND MOUNTING OF 174 PRINTS
The collection of prints was enriched by successive acquisitions and now counts about 9500 works.
This collection covers the Ile de France area from 16th to 20th century and offers a walk through time and space, through royal and princely domains, gardens, monuments, religious buildings and everyday life and speaks about a world sometimes disappeared. Besides their documentary interest, these prints trace the artistic evolution of the representation of the landscape as well as the know-how of great designers and engravers.
The Museum also preserves a rich collection of prints by twentieth-century artists, including a paul cézanne print entitled Paysage à Auvers, dated 1873, a few prints by Jean-Baptiste-Armand Guillaumin, André Jacquemin, Maurice Vlaminck, André Derain, André Dunoyer de Ségonzac, Jacques Villon, Tsugarharu Foujita, Jean fautrier and Jürg Kreienbühl.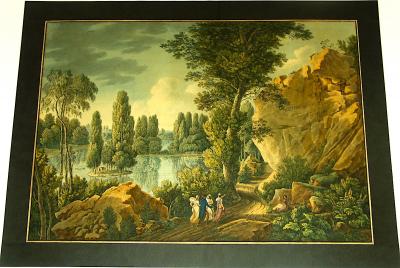 Loius-François Cassas
Parc de Mortefontaine, ca 1802,
etching, water colour and gouache on paper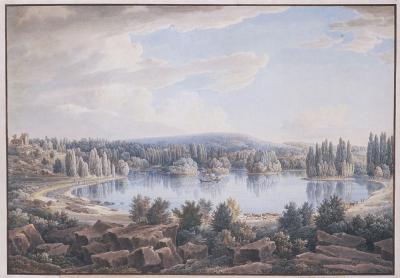 Louis-François Cassas
Vue générale des lacs de Mortfontaine
etching and watercolour on paper, ca 1802,