CONSERVATION, RESTORATION AND MOUNTING OF 259 DRAWINGS
The Grafic Art Collection holds nearly 2500 drawings. A particularly rich collection on the historical and artistic heritage of the Ile de France area since the XVIIth century.
The originality of this collection is due to its great diversity. Diversity of themes represented: landscapes, towns, villages, castles and residences, parks and gardens often embellished with everyday life representations. Diversity of practices such as painters, artists, architects, decorators, topographers, landscape gardeners, travelers, engravers or illustrators. Diversity of media: lead stone, sanguine, graphite, pen, charcoal, ink wash, watercolor, gouache and patel.
A collection of contemporary drawings completes this collection. the first half of the 20th century is represented by artists from the école de Paris or of Nouveau réalisme and some illustrators.
Following are some examples of restored artworks: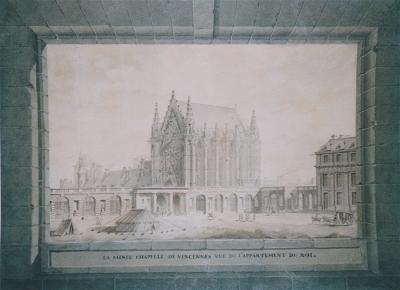 La sainte chapelle de Vincennes - 1761
Ink and ink wash on paper
37, 5 x 51,4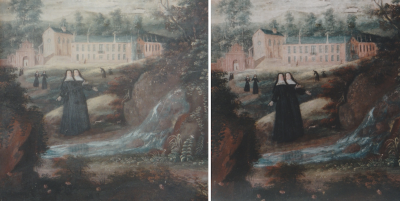 No title - 1701
Gouache and oil painting on parchment
Before and after, detail

André Dunoyer de Segonzac
After restoration
Jean-Baptiste Oudry
Parterre with basins and castle, ca 1747, black lead and white chalk on paper, INV. 90.43.1
After restoration