DEACIDIFICATION OF CONTEMPORARY DRAWINGS (2013 - 2014)
Deacidification of contemporary drawings using a stabilizer-free nonpolar dispersion.
Research realized in cooperation with the Faculty of Chemistry and CSGI, UNiversity of Florence, Italy.
The use of paper started to change in the middle of 20th century, moving from a simple support for studies or sketches to being the heart of autonomous works, at time torn, burnt, folded, perforated, twisted or creased. Yhis is the case of Simon Schubertn Kiki Smith or Stefano Arienti artworks. At the same time the world of art has seen the arrival of a large number of new media, such as acrylic and vynil resins, pressure sensitive tapes, ball-point and felt-tip pens. All of these media and process are rarely compatible with traditional restorative procedures. This makes the conservation and restoration of the wide field of contemporary art on paper unexplored. In particular, few are the available deacidification treatments that can safely be used on contemporary drawings. This research proposes a deacidification method based on calcium hydroxide nanoparticles dispersed in cyclohexane.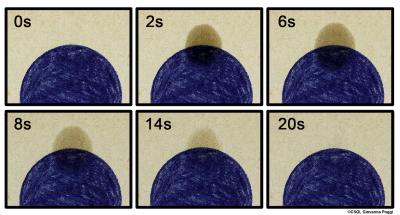 Tests on a mockup
The effect of a drop of calcium hydroxyde nanoparticles in cyclohexane on a mockup prepared using acidic paper and Bic© Cristal blue ink. no bleeding or leaching of ink occurred.
© CSGI, Giovanna Poggi.

Before and after
Detailed view of Arienti's drawing number 53. Reflectance Transformation Imaging (RTI) and Specular Enhancement photographs. on the right, the drawing before the treatment. On the left, the same detail after the application of calcium hydroxyde nanoparticles dispersed in cyclohexane.
No changes of the drawing 3D topography due to the deacidification process are present. Pisctures show a detailed view of the hole due to the burning of the substrate and of several pinholes that draw the contour of paloma's silouhette. The comparison between pictures taken before and after treatment shows taht, even around the burn, where paper fragments are fragile, the original shape and topography of the medium is safeguarded. This is due to the chemical nature of cyclohexane, which does not interact with hydroxyl groups of the supramolecular structure of cellulose fibers, being a non polar solvent.