NEW REALISM: TORN POSTERS
Torn, dirty, ripped, burned, pierced, paper underwent a widespread and broad range of unusual and innovative interventions around the 1950s. While the torn sheets of Hans Arp may be considered forerunners of this trend, it is important to observe how artists of the second half of the 20th century made this "maltreatment" a point of reference, creating a new relationship with the supports. The works of artists like César, Arman, Hains, Rotella, Fontana and Duchamp clearly reveal this: the support becomes a battlefield.
-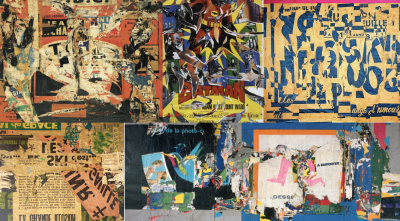 Raymond Hains
Before and after restoration
On the one hand we see the maltreatment of the support in such an artist as Fontana, who would slash or pierce the canvas or paper in a random way to create spatial concepts suggesting free space, or in Cai Guo-Qiang and Arienti, who instead worked on the paper substrate, burning it to create new images with gunpowder in the first case, and with a heated metallic point and a flame in the second.
On the other hand, there is the maltreatment of an image to create a new one, as in the case of the "arracheurs d'affiches" in New Realism in which artists like Hains, Villeglé or Rotella reveal out-of-date information, sedimented images and patch of colour by tearing and stripping the various layers of overlaid advertising posters, creating a new relationship with the work, with the city of that period, which becomes tentacular, dominated by the economy ond the new culture of communication.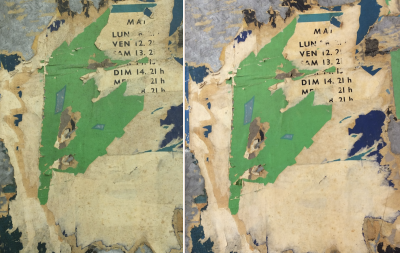 Raymond Hains
Before and after restoration
Naturally, these works present artistic layout that can be compared to the common accidental deterioration of paper. And this is the nub of the problem: how can we understand where the deliberate deterioration stops and the accidental begins? Would it be better to fix the fragments of burnt and carbonized paper or let them fall? These are the most common, but not the anly we ask ourselves before the restoration of this type of work which requires deep knowledge of the artist's work and universe and a perfect documentation of the state of conservation.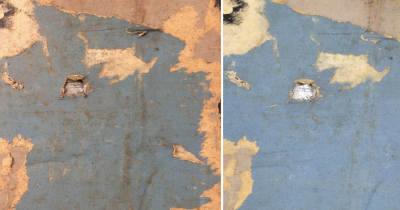 Raymond Hains
before and after restoration
LIkewise, we need to make use of the artist's archival images so as to understand the evolution of the support and media. In doing this, we also set up the basis the identification of any deterioration problem that could emerge in the future.
Most common conservation treatments are: mechanical and superficial cleaning, consolidation, deacidification using alkaline nanoparticles in low polar solvents, adequate and secure mounting.