SERIES "LEDA"
Antoine Bourdelle drew all his life, from his school days to the end of his life in 1929. He liked to declare that "sculpture is just drawing in every direction". The numerous outcomes of this essential passion were kept in the Parisian studios, where Bourdelle settled in 1885 and which are now home to his museum. This rich and varied collection is made up of some 6,200 drawings.Pastel, chrarcoal, pencil and ink drawings, watercolours and gouaches make up this exceptional set of studies, preparatory drawings or works in their own right, finished compositions or simple sketches, all reflecting a life of fruitful, constantly renewed artistic creation.
Conservation treatment and mounting of a set of 25 drawings from the series "Leda".
Some cases before and after conservation treatment are displayed in the following images.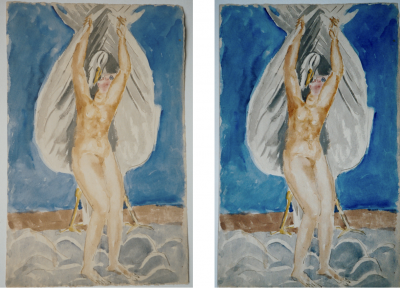 Drawing INV. 5474
Before and after conservation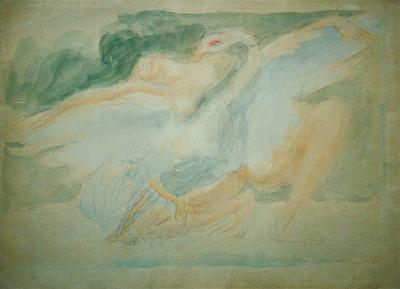 Drawing INV. 5500
After conservation treatment